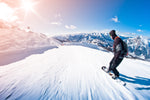 The hard truth is that most people who choose a snowboard pick the wrong one. Snowboarding is one of the most challenging sports, and it's even more difficult when you're trying to figure out what kind of board to buy. Having stocked and supplied snowboards for several years, our team at Ski N Board Room is on hand to help you figure out which snowboard is right for you. 
Finding the right snowboard can make a massive difference to the ability you have when snowboarding down the slopes; whether you are an advanced border or just starting, all you need to do is get in touch with one of our teams here, and we will be more than happy to help you find the right snowboard for you.  
Are You Ready To Buy Your First Board?
A snowboard can be made of various materials, have varying degrees of flex, and come in different shapes and sizes. It's no wonder that so many people get confused when they shop for a new board. When you're ready to buy your first board or upgrade from an old one, here are some tips for choosing the right one for you.
A snowboard is an essential part of any winter sports enthusiast's kit. Whether you're looking to hit the slopes professionally or just have some fun going down the slopes with friends, a quality board will help you achieve your goals. 
At first glance, snowboards can appear to be complicated pieces of equipment. However, there are only a few things to consider when buying one: weight, size and shape. Taking all of these into account will help you find the right snowboard for you; by weight, we do mean the weight of the person riding the board and the weight of the board itself. 
The best way to find a snowboard is to try them out first. This can be tricky as you'll need to find a snowboard shop that will let you demo their boards, but it's worth it. Another way to find the right board for you is to speak to a team member here at Ski N Board Room; we can help you virtually. 
There are so many different shapes and sizes of boards, each with its advantages and disadvantages if you don't either try them out or speak to a professional who can give you the proper guidance and advice. 
Do You Know What You Are Looking For?
The first question we need to answer is what kind of riding you want to do? If you are just getting into the sport or have never snowboarded before, it is best to go with a beginner board. These boards have softer flex ratings and are designed for easy turning. As your skill level progresses, you can upgrade your board when necessary.
You need to decide what type of snowboard rider you are: beginner, intermediate or advanced. This will be based on how much you have boarded before, your ability, and the type of slopes you are planning to go down. 
It can be challenging to keep humble about your ability; you need to be honest about what you are capable of on the slopes; if you choose a board outside of your ability, you will struggle when on the slopes. 
Beginners need lower-flex boards with softer edges because they're still learning to turn and carve properly. 
Intermediate riders should choose medium-flex boards to progress their skills but still give them enough stability for carving turns on moderate terrain. 

Advanced riders require stiffer boards with more challenging edges to take advantage of advanced techniques like rail slides and spins when hitting jumps.
Do You Want A Twin Tip Or Directional Board?
A twin tip is a board with two tips – one on each end - whereas a directional board only has one tip at one end and is, therefore, more suited to riding in one direction down the slopes rather than around corners.
If you are new to snowboarding, it's probably best to start with a twin tip board before moving on to directional ones later on when you have more experience under your belt.
Finding, The Right Size For You Will, Make All The Difference
It is worth noting that snowboards are like shoes in the sense that there are different sizes and shapes. The size of your board matters because it determines how much leverage you have when making turns and how fast you can go downhill. It is essential to get the right size board for your weight and height. If you do not have the correct, you will not get the full benefit from your snowboard and might even find it difficult to use.
There are three main lengths of snowboards: short, all-mountain and freeride. Short boards are usually under 180cm (5'11") in length, while freeriders boards tend to be around 200cm (6'7″). All-mountain boards fall somewhere in between at around 185-195cm (6'1″-6'4″).
Short boards are ideal for beginners as they allow you to get used to riding before committing yourself to a giant board. They also work well for smaller people and looking for better control over the board. However, if you want to ride fast, then a short board may not be ideal because it can hinder your ability to carve turns or navigate choppy terrain, which requires speed, 
Contact Ski N Board Room For Snowboards Today
Now you have read our ultimate guide to snowboards, are you ready to make your purchase? If so, get in touch with one of our team members at Ski N Board Room. Our team has been the number one supplier and seller of snowboards for several years. With a wide range of available for all abilities from beginners to advanced, we are confident you will find exactly what you are looking for. 
All you need to do if you need further advice and guidance is to give one of our team members a call; we are always more than happy to help you in any way we can, and with fast and efficient delivery, you can have your brand new snowboard is no time!